---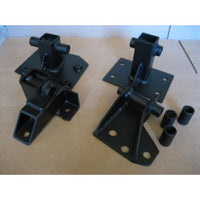 Bad engine mounts can hurt performance and cause drivetrain failures.  Maximal Performance solid mounts are a complete replacement with no need for cores.  By keeping the whole drivetrain in place there is less stress on components, less wheel hop, and more power to the ground.  There is an increase vibration at idle due to the solid nature.
The full set includes all 4 mounts...front, rear, tranny, and driver's side mounts.  If a single mount is needed (or any combination less a full set) please contact us for pricing.
Install notes:  There is some play between the mount and the bolt that connects it to the engine bracket.  This is by design and the opposite mounts will take up this slack once installed.  There are 3 spacers included that go on top of the driver side mount where it bolts to the engine.  They take up the space between the bottom of mount and the end of the threads.